bordbar | from the sky to earth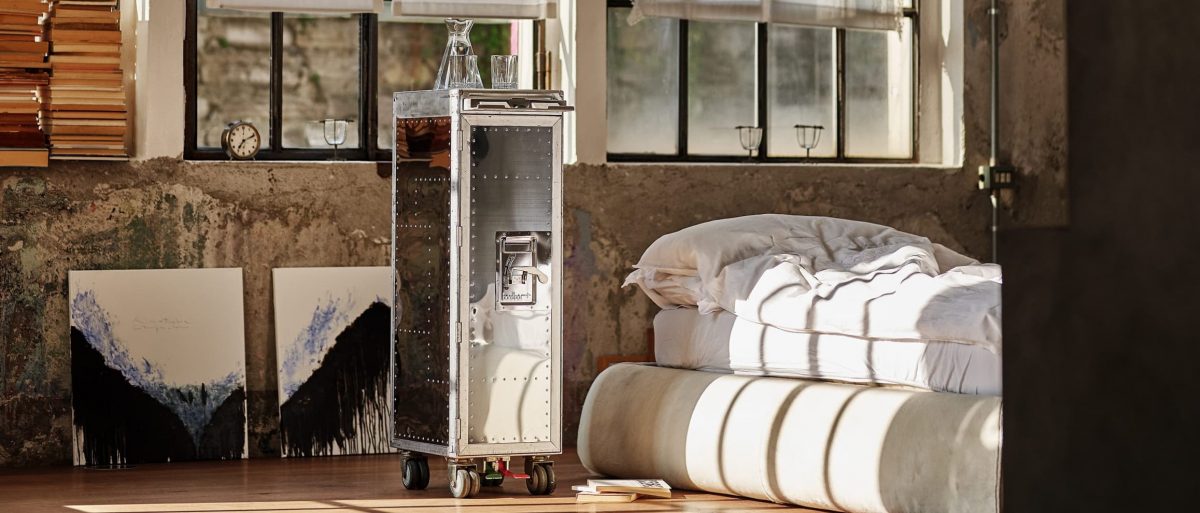 A week ago we flew to Cologne to visit some art galleries and a company we wanted to get to know closely: bordbar. We had already had the opportunity to see some pieces of their collections during the last fair in Paris, but for us it is really important to get to know the people behind a brand, talk, seek the passion in the project they carry out. And then observe first-hand the various productive processes
Bordbar collections really come from the sky because what they produce originates from the world of civil aviation. An example? The famous aircraft service TROLLEY. You know when they serve you a drink or breakfast on board? Well it is possible to buy that trolley, which is 100% customizable, both for the inside and for the outside. As an official partner of Lufthansa, it is the only company in the world that can promote the trolley under the airline's brand.
In the world of design we now see thousands of pieces, often very similar, and it is almost impossible – even for professionals – to stay up to date on everything that is proposed. Certainly the same cannot be said for this brand that offers something absolutely unique and original.
What use can a trolley have? It can be placed in the kitchen, as a support element to contain our bottles, for example. And the great thing is that you can move it how and where you want, because it still remains a cart!
But it is also interesting in the bathroom, perhaps equipped with drawers for our products or shelves for towels. And try to imagine it in the office, as an additional cabinet to finally put in order everything we leave around. Moreover, in a period like the one we are experiencing – in which smart working is becoming increasingly popular – we can think of it as a real cabinet for our documents that can follow us wherever we want.
The BORDBAR collection includes two other elements, always "stolen" from the sky. The first is the BOX, a small trolley, also with wheels, which can be placed under a desk, next to a bed, as an original bedside table, or in the living room, as a container and point of support. Fitted with a cushion, it turns into a stool.
And the second is the CUBE, the smallest element in this world and introduced in the aircraft galley since 1954. Also in this case, the uses can be multiple: in the kitchen, in a living room as a piece capable of bringing the charm of flying inside. our domestic spaces, or in very small environments – perhaps anchored to the wall – as a bedside table, bathroom cabinet or mini-console for the entrance.
Why are we passionate about this brand? Because it offers something different, because it has a very limited collection – even though it can be customized indefinitely – and because we have seen the production with our own eyes and each piece is built completely by hand. There are no machines. The girls and boys who work there? All young and with a great passion.
What can I say, we invite you to browse the world of bordbar and we would be happy to provide you with all the details and information, if this universe intrigued you. We are there!